Your Hen Party
Revolution Cocktail Making Masterclass
Group size:
Minimum of 8 hens
Availability:
7 days a week
Restrictions:
Must be over 18
Get yourself in the mood for your hen party celebrations with a Revolution cocktail making class!
The cocktail making masterclasses are one of our most popular activities and it's easy to see why. From muddling to mixing, you will learn the art of mixology with this excellent, highly interactive, 90 minute class.
You'll get to learn all about classics such as Mojitos and Cosmopolitans and then it's time to get hands-on and try making your own.
It's important to taste the cocktails as you go (to make sure they're up to scratch of course!) and then take more sips to congratulate yourselves for a job well done! Nachos included (V) OR (VE) – you need something to soak up those drinks!
Throw some team games and shots into the mix and you'll have a memorable party for your bride-to-be.
Why Revolution?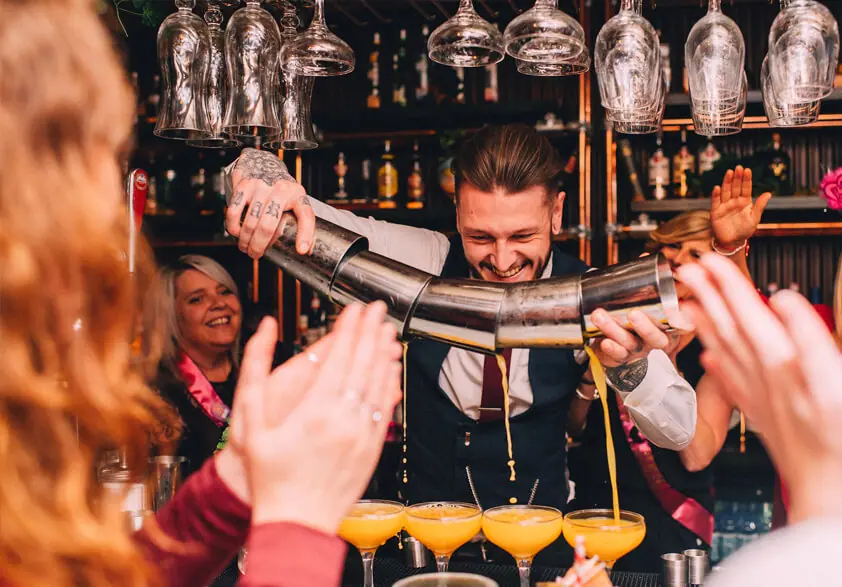 Revolution cocktail masterclass has delighted over a million guests in the past decade. Join the ranks of satisfied participants who have savoured this unforgettable experience.
With an impressive number of 55 cocktail bars and restaurants spread across the UK, you can trust that Revolution knows how to create an exceptional experience for every visitor.
Whether you're looking for a vibrant night out or a relaxed dining experience, Revolution is the place to be.
Added Extras
To make your fabulous afternoon even better, try a two-course or three-course meal* to turn it into a fantastic evening.  What's more, we'll have the meals all arranged at the same place – meaning that once your mixologist work is done, you can just take a seat & get ready to be served some delicious food.
*We might not offer this service in your area. Please contact our customer support team for more information
Additional Information
If your group is a smaller size than 8, then we also offer an 'At Table Masterclass' for groups with 4-6 guests. Please enquire here for more details.
Mocktail sessions available
If you fancy a more Cuban themed cocktail class, Revolution also have Revolution De Cuba bars, which includes Tapas.
Our No Pester Guarantee
Unlike many of our competitors, none of our team are on paid on a commission basis and we'll never pester you over the phone to pressure you into a decision. 🕊️✌️
Top 5 hen party experience
Dedicated bar tender for your group
90 minute session
Welcome cocktail
Create your favourite cocktail from the delicious cocktail menu
Fun cocktail making games
Shot train to toast the bride
Standard class includes Nachos
Revolution Cocktail Making Masterclass
60 Second Enquiry Form
Click the enquire now button to enquire online, or livechat with us.
We'll get to work helping you to book a memorable Hen Party.
We'll send you a quote and when you are happy to book you'll just need to drop a £25 deposit.
Step 2
Drop a £25 deposit online
Step 3
We'll take care of the rest!